Suffering an injury at work can put you at a loss physically and financially, so don't hesitate to seek treatment. A workers' comp doctor can treat your injury and facilitate your insurance's compensation claim. But how do you decide which medical expert to see for your injury?
This guide details the various workers' comp specialists that specialize in treating different work-related injuries. It also shares tips to help you navigate the right provider not just according to their specialty but for their level of medical care, particularly with workers' comp cases. 
Define the Specialty You Need Care From
The first step in finding a workers' comp doctor is to determine the area of expertise that can best treat your injury. You may require care from multiple different specialists, so it's essential to understand which doctors are available to you and the specific ways they can treat your injury.
Rather than walk into any independent physician's office with the possibility they don't specialize in your injury, take the time to learn which field of medicine you need care from. Learn more about the specialties of common workers' comp doctors, the injuries they treat, and how they can help you. 
Chiropractor
Chiropractors focus on the body's musculoskeletal and nervous systems to target joint, neck, and back pain. Per the American Chiropractic Association, more than 35 million Americans visit a doctor of chiropractic to treat spinal disorders, headaches, and other sources of pain. 
Chiropractic treatment is a non-invasive approach to reducing neck and back pain. Your provider positions you in a specific way to target the pain point. From there, your doctor manipulates the spine or impacted joints with pressure and applies sudden force to correct misaligned vertebrae. 
Chiropractic adjustments prove beneficial for varying degrees of back pain. According to Consumer Reports, 65% of people who visited a chiropractor claim it helped reduce their pain levels. This report lists chiropractic visits as the most beneficial treatment over health alternatives like yoga, Pilates, acupressure, massages, and prescription medications. 
Seek chiropractic treatment if your work-related injury causes neck or back pain. This includes pain after a fall, strain from overexertion, or compression from poor ergonomics.
Neurologist
Seek out a neurologist if you sustain a head injury at work. These doctors monitor brain function following impact injuries. A concussion is one of the most common head injuries, though in extreme cases, a worker can suffer a traumatic brain injury.
The American Association of Neurological Surgeons maintains that there is no such thing as a minor concussion. These injuries can cause long-lasting headaches, confusion, sensitivity to light, dizziness, and nausea in patients. Traumatic brain injuries can cause disorientation, seizures, loss of consciousness, and even death.  
Head injuries are the most costly of all workers' compensation claims, according to data from the National Council on Compensation Insurance. Workers who suffer a head injury receive an average of $93,942, with nearly two-thirds of that figure allocated toward medical costs. The remaining indemnity costs make up for the financial loss as a direct result of the worker's injury.  
Visit a neurologist if you fall at work and hit your head or experience an impact collision.  
Orthopedist
Orthopedists largely deal with injuries to the more than 300 bones in your body. In addition, they focus on damage to your ligaments, muscles, tendons, nerves, and cartilage. These specialists use imaging, such as X-rays, MRIs, and CT scans to diagnose bone fractures and sprains.
Your treatment can vary depending on the severity of your injury. For broken bones, treatment can range from casting on the joint to splints to surgery in complex cases requiring bone realignment. The experts at Orthopedic Associates list pain, bruising, swelling, immobility, and weakness as typical symptoms of a broken bone. 
An orthopedist can help your bones heal properly after an injury. Consult with one if you suspect a bone fracture or other musculoskeletal damage as a result of your work injury.
Pain Management Doctor
Sometimes an injury never fully heals and you are left with chronic pain. Pay attention to your pain levels, pain consistency, and whether it prevents you from performing normal daily activities. If you experience frequent pain that inhibits your life, consult with a workers' comp doctor specializing in pain management. 
Pain Management doctors explore different avenues to relieve your chronic pain symptoms. You can expect a custom treatment plan depending on your history and medical records. According to Stanford Medicine, there are several methods for injecting pain medications, including around the spinal nerve and in the lower abdomen.
Outside of medication, a pain management workers' comp doctor may suggest alternative treatments like acupuncture. They can also provide guidance on holistic wellness to reduce inflammation in your body. 
Physical Therapist
Physical therapists strengthen any part of your body when it loses its range of motion. Professional physical therapists have several strengthening exercises in their toolkits to restore muscle power after an injury. Working with a doctor of physical therapy can improve your mobility and reduce pain from work-related injuries. 
According to the United States Bone and Joint Initiative, more than half of all Americans over the age of 18 develop a musculoskeletal injury lasting more than three months. Physical therapy is one of the medical services that can aid with various injuries. 
When it comes to workplace injuries, many injured employees see a physical therapist along with another medical professional to holistically approach their recovery. For example, if you sustain a back injury at work, you could work with both a chiropractor and physical therapist to alleviate pain and increase your range of motion. 
Psychiatrist
An injury at work can affect your mental health just as much as it affects your physical health. According to a study in the Emergency Medicine Journal, accidents can create a high level of psychological stress that can be long-lasting for many patients. A psychiatrist can help you navigate these challenges and include mental health conditions as part of your workers' compensation claim.
Psychiatrists can provide you with prescription medication targeting depression, anxiety, and other symptoms of psychological distress. They can also refer you to a licensed professional offering talk therapy and help you explore alternative treatment methods.  
What To Look For in a Workers' Comp Doctor 
Once you pinpoint the medical field that can handle your injury, you need to consider several factors when choosing a specific provider. A doctor who checks off these boxes can help you navigate recovery more easily and provide key information for your workers' compensation claim.  
Experience with Workers Comp Cases
The ideal medical professional you turn to for workers' compensation already has experience in similar cases. In New York state, healthcare specialists need to be authorized members of the Workers' Compensation Board. This ensures that a provider you visit for a workers' comp injury has gone through mandated training specific to the treatment of injured employees seeking insurance compensation. 
Doctors who are familiar with workers' comp cases provide injured workers with a high level of care and also understand the necessary procedures each claim entails. They will ask a specific set of questions to patients, document injuries, and file a report in line with the state's workers' compensation.
Willing to Provide Referrals
You may need to see multiple specialists to treat your injuries. Say you make an appointment with a clinician who doesn't specialize in your type of injury. Getting a second opinion is vital for progressing your care. 
Certain healthcare providers may be reluctant to issue a referral. However, workers' comp doctors who are willing to give referrals are the ideal provider in the event that you need to receive treatment elsewhere. Prior to making an initial appointment, inquire about your doctor's referral process.
Willing to Collaborate
It's important to find a doctor who is open to collaboration. When they agree to treat you, they agree to develop a relationship with you and listen to your concerns. This includes building an understanding of not only your injury but the specific circumstances that led to it. 
Doctors you trust for your workers' compensation case should work with you to develop goals for your treatment and recovery, which you should follow. According to a report by the nonpartisan and objective research organization NORC at the University of Chicago, 93% of physicians believe their patients adhere to their treatment plan, though only 81% of patients claim to. It's crucial to be open and honest with your doctor and follow their recommended treatment plan to reach your full recovery. 
A Positive Reputation
Anytime you reach out to a new healthcare provider, it's hard to guarantee that they will be up to your standards. Finding a doctor with a good reputation is important. It gives you peace of mind that you'll receive top-quality, compassionate care. 
The NORC study on trust within the U.S. healthcare system reports that 85% of patients are likely to select a provider solely on their insurance coverage. 69% of patients list convenience as a deciding factor, and 51% name a doctor's rating as influencing their choice. Don't ignore a doctor's reputation when choosing a healthcare provider. 
Vetting potential providers to treat your workers' comp injury can help you ensure you end up in trustworthy hands. Using a provider directory can open you up to doctors in various specialties. Another bonus to directories like Workers' Comp Doctor is that you'll have access to healthcare experts that are familiar with handling workers' compensation cases. 
Doctors Who Take Workers' Comp Near Me
Searching for workers' comp doctors near me doesn't have to be a daunting task. 
Use our convenient online directory to search for experienced workers' comp doctors in NY. Finding the right doctor can help you qualify for compensation as a result of suffering work-related injuries via your employer's insurance company. Your doctor's assessment can also make you eligible to receive statewide disability benefits. 
Doctors in our directory accept most insurance plans, including workers' compensation, no-fault, and PIP (personal injury protection). Same-day appointments may be available.
Which Doctor to See for Electrical Workplace Injuries?
Workers with exposure to high-voltage electrical currents are at risk for dangerous injuries. Electricians, HVAC technicians, construction workers, and telecommunication repair workers are among the many workers susceptible to work-related electrical injuries. These injuries can cause severe damage, but which type of doctor should you see to treat them?
The answer largely depends on the nature of the injury. Say a construction worker experiences an electrical shock on the job, which causes them to fall. If they hit their head in the fall and experience headaches, memory loss, or seizures, a neurologist is best suited to treat their injuries. 
In a different scenario, a fall after an electrical shock could result in a bone fracture or nerve damage. In this case, the worker will turn to an orthopedist for treatment. Those who experience any electrical injury that has a negative impact on their mental health should rely on a psychiatrist to tackle the issue. 
Depending on the circumstances of your injury and the necessary treatment you need, you can find qualified healthcare professionals listed in our free directory. 
Find the Right Workers' Comp Doctor for You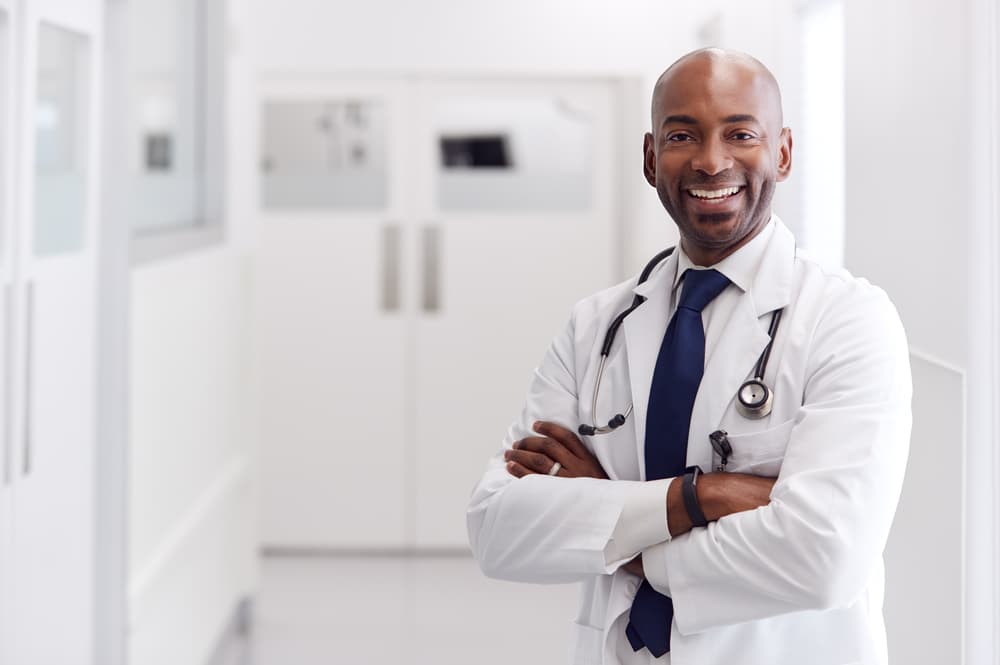 Don't wait to treat your workplace injury. Search qualified workers' comp doctors in our free directory to find the best provider for you.
Learn more about work-related electrical injuries to learn crucial safety tips.
Frequently Asked Questions
Should I get a second opinion on an injury?
Yes, get a second doctor's opinion if your symptoms don't improve with the prescribed treatment. 
Can I choose my own doctor for a workers' comp case?
Yes, New York workers are entitled by state law to choose their own doctor to treat work-related injuries.
Are all workplace injuries covered by workers' comp insurance?
No, injuries you sustain by intentional conduct or working under the influence do not qualify for workers' comp coverage. 
Can I see more than one doctor for work-related injuries?
Yes, you can see multiple healthcare specialists for work-related injuries.